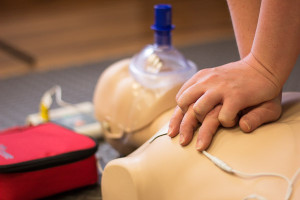 Karl Environmental Group offers baby and child CPR and First Aid training through the National Safety Council (NSC) Pediatric First Aid, CPR and AED certification course.  Our classes are perfect for parents or professionals who work with children and infants.  All classes are taught by highly experienced instructors who are certified in First Aid and CPR instruction. Classes incorporate a combination of hands-on, video, and instructor-led training.
Who Should Learn Childcare CPR?
The NSC Pediatric First Aid, CPR, and AED  class is perfect for anyone who works with children or infants, including:
Daycare Centers
Schools (Pre-School, Kindergarten, Elementary, etc.)
Sport Coaches
Girl or Boy Scout leaders
Pediatric Medical Facility Administrative Staff and Assistants
Pediatric Medical Professionals/Healthcare Providers (Doctors, Nurses, Dentists)
Paramedics and EMTs
Youth Organizations
Parents/Grandparents/Babysitters
What Topics are Covered?
The class focuses on teaching students how to properly care for a child or an infant in almost any emergency medical situation, including CPR for choking infants, proper infant CPR finger placement, appropriate first aid for both children and infants, CPR compression to breath ratio and compression depth. The course is designed to explicitly cover the special needs of children and infants in any medical crisis.
Other main topics included in the class include:
Bleeding and Wound Care
Shock
Burns
Bone, Joint and Muscle Injuries
Brain and Spine Injuries
Poisoning and Allergic Reactions
The high-quality cardiopulmonary resuscitation (CPR) and AED use is taught in both one- and two-rescuer scenarios as use of equipment is different for each. As technique can only be learned and improved upon with practice, students will be able to practice each skill and will have a hands-on skills assessment as part of the class.
How Long is the Class?
The First Aid and Childcare CPR class length is typically 5-6 hours in length (depending upon the size of the number of attendants).
How Long is the Certification Valid?
Upon successful completion of the class, each student will receive a National Safety Council Pediatric First Aid, CPR and AED course completion card that is valid for 2 years.
Do You Offer On-Site First Aid/CPR/AED training?
Yes! In addition to our training facility located in Reading, PA, our instructors serve Southeastern Pennsylvania (Greater Philadelphia, King of Prussia, Chester, Allentown, Lancaster, and Reading) and most of New Jersey. If you have a group of students, Contact Us to have our instructors provide training at your facility.
How do I Sign Up?
Contact us to schedule a class or call 1-800-527-5581.
Where is the Training Facility?
Karl Environmental Group's training facility is conveniently located in Reading, PA, just minutes from the Pennsylvania Turnpike and Route 422. Business address:  20 Lauck Road, Mohnton, PA 19540.